By :

manish kumar, SEO | Web-cms Developer | FreeTips-- shoot me an email | Mobile SEO | Do more than Just !

Activity:

10 comments

495

views last activity :

01 18 2012 16:15:49 +0000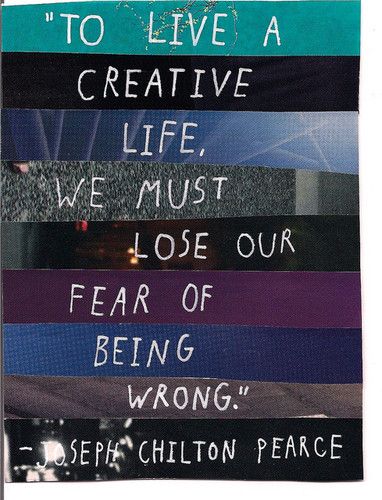 To
live a creative life, we must lose our fear of being wrong.
The fear of being wrong, different, or socially unaccepted or unpopular is one of the biggest inhibitors to one's creative juices. When a person can do things without worrying what people will think of him, then a person can use their creativity with no limits, and take their work to places they probably would never of imagined going. One of the biggest rules to being creative is to first disregard everyone's opinion. The creativity you have is what makes your work your own, and changing it to fit into someone else's mold would defeat the purpose of it all. 
Remember when being creative that your work doesn't have to be a pop icon or anything but it has to at some point change society in some way(s). Everyone has their own creative flow and energy, it is all about sticking to your gut feelings, despite the consequences or feelings of hesitance you might endure. Let the world see who you really are, despite what labels you may receive for it.
Leave
your fears behind.
Leave all of your fears behind. Fear not, for God is with you, and even when it seems that you are fighting alone and it seems that he is not listening nor that he is on time, he will arrive when you need him. Fear not, because you are a strong, courageous, and loved soul, and when it seems that everything is going against you, you will make away. Fear not, because there is rain, and there is sun, there are storms, and then it is clear, prettier days are coming your way.
it is quite true, you have to only experience to feel like that.
TrackBack URL:
Leading Recruitment Firm
Create a confidential Career Profile and Resume/C.V. online
Maximize awareness of and access to the best career opportunities
Holding grudges are not only bad for your mind, but research is showing that it's also bad for your health! More and more evidence is being gathered and shows that hanging on to long-term anger can actually cause a variety of major health...
thank you all :) m not able to +1 on comments :(